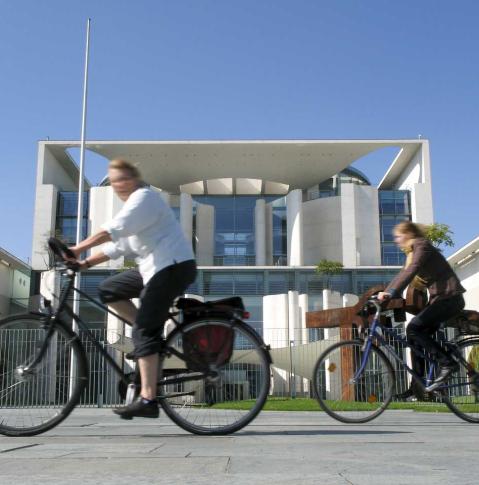 Federal Chancellery (Bundeskanzleramt)
The Federal Chancellery, called a federal band, is located north of the Reichstag in the government district and is the office of the Federal Chancellor. Since the beginning it has been a symbol of transparency to the citizens. The building, which is also the seat of the federal authority of the same name, has been given many nicknames in the vernacular of Berliners. Journalists like to use the name "federal washing machine" due to the porthole-shaped panorama window pane in Angela Merkel's office.
Interesting facts about the Federal Chancellery
The Federal Chancellery was planned and designed by architects Axel Schultes and Charlotte Frank to restructure the Spree arch. After four years of construction, Gerhard Schröder, the then Federal Chancellor, was able to move into the building. This completed the government's move from Bonn to Berlin. The Federal Chancellery is the largest government headquarters in the world and is about eight times larger than the White House in Washington. The property alone comprises the Chancellor's Office, the Kanzlerpark, Paul-Löbe-Haus and Marie-Elisabeth-Lüders-Haus, and has a helipad of around 73,000m². It is divided into a central eight-storey pipeline construction with two four-storey office wings, and the spacious garden of the Chancellor's Office is on the other side. In addition to office rooms, the building also has living quarters which are not used by Chancellor Merkel. Her predecessor Gerhard Schröder used the living area only during the working week, since his family continued to live in Hanover. The Federal Government traditionally has an open "State Visit" day at the end of August when you can visit.
Anecdotes from the famous office
But it's not only bureaucratic here - there are also some amusing anecdotes about the Federal Chancellery: as the majority of the staff comes from the Rhineland - due to the former seat of government being in Bonn - and like to maintain their traditions here in Berlin, the canteen windows are sealed up at carnival time. This is to prevent passersby from getting the impression that the country is ruled by "flaky fools". Thanks to a scary cleaner, there is also a rumour that the building is haunted.
The Berlin WelcomeCard tourist ticket
The Berlin WelcomeCard is the perfect complement to your visit to the capital. Do you want to explore Berlin on your own? The Berlin WelcomeCard offers you numerous advantages in this respect. You can use all public transport for 48 hours, 72 hours, 4, 5 and 6 days from validation. In addition, the tourist ticket sold millions of times offers discounts of up to 50% on around 200 Berlin sights and attractions. Berlin's official tourist ticket is particularly recommended for families with children, as up to three children up to 14 years of age can also travel with it.
In a nutshell
Address
Willy-Brandt-Straße 1
10557 Berlin
Germany